What is nexus card and where to get one?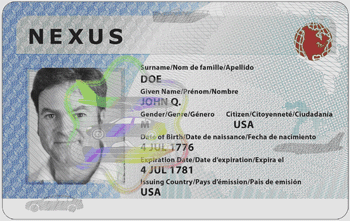 Are you a Canadian who enjoys shopping in the US? Or are you an American that enjoys taking advantage of the low dollar and some good old routine? No matter what it is, you can travel through these neighbouring countries with ease with the NEXUS Card.
It is part of the Western Hemisphere Travel Initiative (WHTI), which means that anyone looking to participate must have a valid passport and be admissible to travel between Canada and the U.S., the same requirement applies to Canadians who plan on entering the US. It's a bi-national program that is for any low-risk traveller at any land, air or marine port. Through the NEXUS pass, participants can enter with ease and efficiently through the use of automated self-serve kiosks at airports or through designated lanes on land. The NEXUS card provides advantages that a normal traveller from either Canada and the U.S. don't have – not to mention it allows for convenience and security.
The NEXUS card allows you to say bye-bye to line ups at border security – presently there are nine NEXUS Canada Air kiosks found throughout Canada, along with nearly 21 designated land border crossings. For those who enjoy cruising, there are nearly 450 marine sites in Canada alone that travellers can call in about an hour before arriving – having a NEXUS pass not only benefits you the traveller, but border officers can focus on those potentially high-risk travellers.
Interested in being a NEXUS card member? Before submitting an application, its important to ensure you meet the eligibility requirements: Canadian or American citizen, once requirements have been met, you would submit an application online or in person, accompanied with a $50-dollar fee for a background check. On top of the eligibility requirements, anyone who plans on becoming a NEXUS member must pass the risk assessments from their home country.
Canadians can apply online for nexus canada through the Cross Border Program's (CBP) Global Online Enrolment System (GOES). If you prefer to do the forms the traditional pen and paper way, you can search for a NEXUS Canada Enrolment Centre for the application.
Though you can do the forms via a paper application, it is highly encouraged to submit your NEXUS application online- in as few as ten-questions you can see your eligibility. Convenience at your fingertips along with automated renewal notifications, why not allow for an easier process for easier travelling.
Once you've obtained your NEXUS card, which is compact and can be easily stored in your wallet, you will find yourself whizzing by through the boarders. On average, NEXUS card holders will spend 10 seconds at the booth and face fewer questions at the booth, all contributing to less stress and who doesn't want that when travelling with young children.
Whether you are travelling during high peak times or early morning, a NEXUS pass will ensure you get to your travel destination with ease. Visit (insert link) for how to get the NEXUS pass now and begin your journey to the airport, the ports or at the border-crossing with the peace of mind of knowing you have the golden ticket to do so!